About the Blog
Welcome to Paula and Sarina's Book Blog! Avid readers, hard core fan girls of fictional literary male characters, proud library captains. We started this blog because of our love for reading YA novels and decided to share our thoughts on the books we read. We hope you enjoy our blog and contact us if you have any questions :)

Blog Archive

Monday, 24 June 2013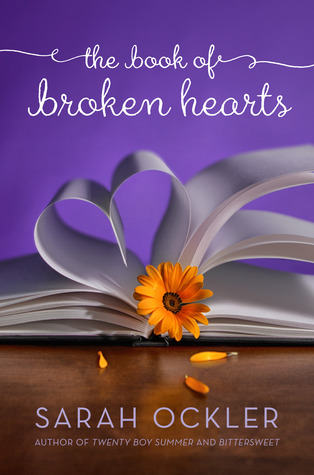 Name:
The Book of Broken Hearts
Author:
Sarah Ockler
Date Published:
May 21, 2013
Grade:
A
Goodreads Summary:
When all signs point to heartbreak, can love still be a rule of the road? A poignant and romantic novel from the author of Bittersweet and Twenty Boy Summer.
Jude has learned a lot from her older sisters, but the most important thing is this: The Vargas brothers are notorious heartbreakers. She's seen the tears and disasters that dating a Vargas boy can cause, and she swore an oath—with candles and a contract and everything—to never have anything to do with one.
Now Jude is the only sister still living at home, and she's spending the summer helping her ailing father restore his vintage motorcycle—which means hiring a mechanic to help out. Is it Jude's fault he happens to be cute? And surprisingly sweet? And a Vargas?
Jude tells herself it's strictly bike business with Emilio. Her sisters will never find out, and Jude can spot those flirty little Vargas tricks a mile away—no way would she fall for them. But Jude's defenses are crumbling, and if history is destined to repeat itself, she's speeding toward some serious heartbreak…unless her sisters were wrong?
Jude may have taken an oath, but she's beginning to think that when it comes to love, some promises might be worth breaking.
Review:
First and for most, I would like to apologize on behalf of both me and Paula that we are sososososo sorry that we have not posted in such a long time! The school year was winding down, and with exams and everything, it was hard to dedicate much time to the blog. But now exams are over and summer has begun, and we are thrilled to read and review more books! The first book of the summer for me was The Book of Broken Hearts by Sarah Ockler. I got this book, and it was teasing me from my bookshelf while I was studying for exams, so I decided that a few pages wouldn't hurt. Fast forward a few hours, I had finished the book. It was that good.
This book follows the life of Jude Hernandez as her father recently developed Early Alzheimer's. In hopes of recovering any part of his memory, she decides to hire a mechanic to restore an old Harley of his. One problem - the mechanic she hired just so happens to come from the one family she has swore to her sisters to stay away from. The Vargas Family.
Jude was a phenomenal character. Lately, I've read many books where the main character is slightly annoying (okay I usually can't stand them), but I could sympathize well with Jude. Her struggles, her hold backs, everything seemed to make sense, and I highly enjoyed that. At first glance, Alzheimer's doesn't seem like a make it or break it disease. But reading this book, I realized that it was. The family dynamic between Jude, her sisters, and her parents was so well written that I felt like I was experiencing all the pains of the Hernandez family.
And the boy. Emilio Vargas, what can I say. He said the right things, he did the right things, he even made me feel the oh so right things. Emilio was a perfect character to balance out Jude, and they complemented each other so well. A perfect romance for a summer read.
Overall, this book was exactly what I needed when I needed it. Sarah Ockler has always been on my reading radar, but this book sealed the deal. Her writing is phenomenal, and there's nothing more I can say that could explain how good this book was. If you're looking for a story to start off your summer, I highly suggest picking this one up!
Happy reading!
~SARINA